Intermountain Society of Inventors and Designers was organized on October 23, 1969 as a non-profit corporation in Utah to help inventors learn from each other's experiences. Lucile Hinman was a key person in founding the Society. Earl A. Miller, of Miller Ski Company, was the first president of the Society. Here are copies of this unique organization's Articles of Incorporation (PDF 0.25 MB), Constitution and Bylaws (PDF 0.85 MB), and Committee Organization (PDF 0.64 MB). The Society's corporate status was dissolved in 1997 with no renewal according to the Utah Department of Commerce in 2007. (When viewing these PDF files, use the "Bookmarks" to locate topics quickly.)
Various experts, related to the field of inventing, were invited to speak to inventors at the Society's monthly meetings. I discovered the Society through a tiny newspaper ad, which announced an upcoming meeting. I joined the society in 1972 when Carl S. Anderson was president. He sent monthly letters (PDF 0.28 MB) of invitation to meetings that were held between October and May each year. In late 1973 I was elected president of the Society. My monthly letters (PDF 0.21 MB) to members tried to describe what happened at the previous month's
meeting. When my year's term of office as president was over, I was appointed chairman of the Publicity Committee and started publishing "The Inventors' Journal" (PDF 2.09 MB) for the Society. A graphic artist, Melvel C. Owen of Bountiful, Utah, designed a new logo (see above) for the Society and the Journal. The Inventors' Journal reported on the activities of the Society and disseminated news of special interest to inventors. When I had to limit my time with the Society, others continued (PDF 1.35 MB) the Inventor's Journal in varying formats for several years.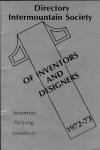 In the 1972 - 1973 year, the Society published a Directory of Inventors and Designers (PDF 8.21 MB) who were members of the Society. It described each member's "Skills and Abilities" and his/her "Patents Applied for or Granted." The descriptions give an interesting profile of people who were attracted to the Society. In September of 1973 the Society, in partnership with the University of Utah and six other
organizations, sponsored an"Invention Convention" (PDF 6.20 MB) at the Salt Palace in Salt Lake City. Media advertising of the convention was enhanced by the

convention's display of the "whimsymobile," built by Borg-Warner as an attention-getter. I was one of the exhibitors at the convention, showing off the LED version of my teaching aid. While some of the convention guests and visiting public showed interest in my invention, no meaningful marketing leads were developed.