Ancestors of Wanless and Jerrie Southwick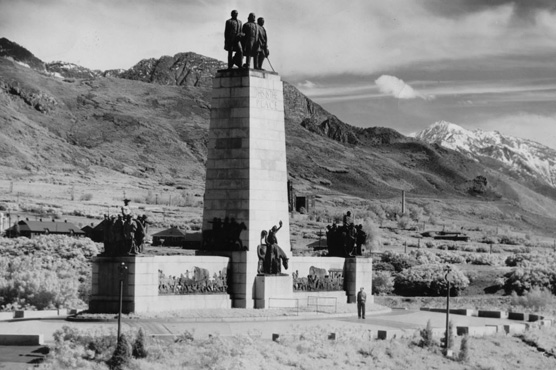 "This is the Place" monument near where Mormon pioneers entered the Salt Lake Valley in Utah.
U.S. National Park Service Photo
Mormon convert ancestors can be found in every branch of Wanless and Jerrie Southwick's pedigree chart. These religious converts immigrated from England and Scotland, or moved from various parts of the eastern United States, to gather with other members of the newly organized Church of Jesus Christ of Latter-day Saints. Some of them went to Kirkland, Ohio, which was the first major location of the Church. Some gathered with the saints in Nauvoo, Illinois, only to be expelled by persecution. They followed the Church across the great American desert to sanctuary in the mountains of Utah. Two left their families waiting on the plains while they served with the Mormon Battalion in the U.S.-Mexican War. These ancestors traveled to Utah by foot and by covered wagon. A few later converts came by railroad. All were drawn to the Intermountain West by their devotion to this new church, which they had recently joined. Research continues into their lives and the legacy of faith that they left for their descendants.
When I recently discovered Picasa Web Albums, I began posting thumbnail photos of deceased relatives with captions to the Internet.
Contact Information
Wanless and Jerrie Southwick
375 South 12th West
Rexburg, Idaho 83440
Email Us (We welcome suggestions, corrections, and related histories.)
---
(Web Pedegree Chart Created 7 Apr 2007 with RootsMagic Genealogy Software )