Books
Thunker and the Treasure of Sundial Cave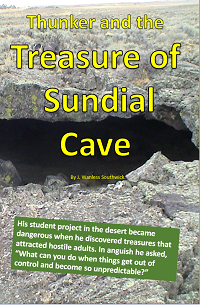 This is the story of a young cave explorer whose personal integrity is challenged when his discoveries attract overzealous government bureaucrats and vicious crooks.
A high school senior nicknamed "Thunker" finds a unique sundial inside a cave, rare petroglyphs, and a hundred-year-old, stolen treasure box. He struggles with the expected consequences of telling the truth about his discoveries. The fact, that his girlfriend's father is also the deputy sheriff further complicates his troubles.
This fun story takes place in real Lincoln County, Idaho locations. Footnotes in the book contain GPS coordinates and online Waymark codes for the real places where the story's action took place, including the Sundial Cave. The book's preface explains how to participate in a competitive waymark scavenger hunt by physically visiting the various locations where the story took place.
COMMENTS:
"It's hard to find good books these days like yours." E.S.
"I really liked Thunker. He smart and clever and it was really cool to see his mind thinking." V.M.
"...a lot of intrigue and suspense along with some history of Idaho and a good dash of humor." B.H.
Paperback
https://www.amazon.com/Thunker-Treasure-Sundial-Wanless-Southwick/dp/B098GX29M5
Kindle eBook
https://www.amazon.com/Thunker-Treasure-Sundial-Wanless-Southwick-ebook/dp/B0993T88JW
DISCUSSIONS:
https://www.facebook.com/groups/1218821428561405