Books
That Little Ball of Christmas String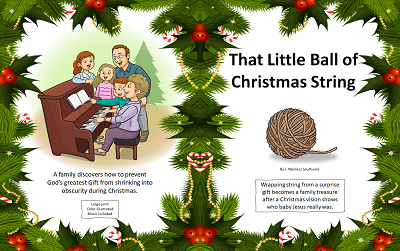 This delightful story tells how the wrapping string from a surprise gift becomes a family treasure. A college freshman takes his girlfriend home for Christmas. They feel the power of Christmas hymns and reconcile a personal misunderstanding before his whole family experiences a magical vision. They see the most important gift under the Christmas tree is God's gift of baby Jesus, our Savior. This color-illustrated storybook was written for adults and their children to be read at Christmas time. Simplified Christmas music is included.

COMMENTS:
"Very believable and touched my heart deeply." - L.P.
"Never heard of a Christmas story like this before. I liked it." - A.J.
The book is available in:
Paperback
https://www.amazon.com/That-Little-Ball-Christmas-String/dp/1093307714
Kindle eBook
https://www.amazon.com/That-Little-Ball-Christmas-String-ebook/dp/B08LC4RP5B